GMT Master II in "Oystersteel"
This year's hero piece from Rolex has just been unveiled – the new GMT Master II in 'Oystersteel' (previously known as 904L steel) with Cerachrom "Pepsi" two colour bezel and, for the first time in the Professional range of Rolexes, on a Jubilee bracelet.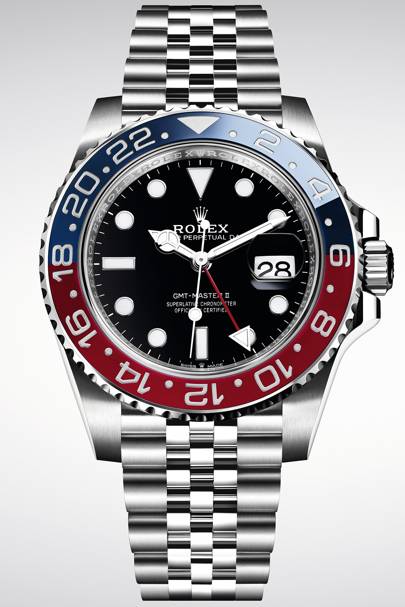 The 3285 movement is new to the Master II, fitted now with a GMT function (as you might expect) and a power reserve of 70 hours (up from 48 on the previous model). The case has been "re-profiled" to add to the lustre of a timepiece that is hardly lacking any.
GMT Master II Everose Rolesor
This is the 18ct Everose Gold Rolesor version.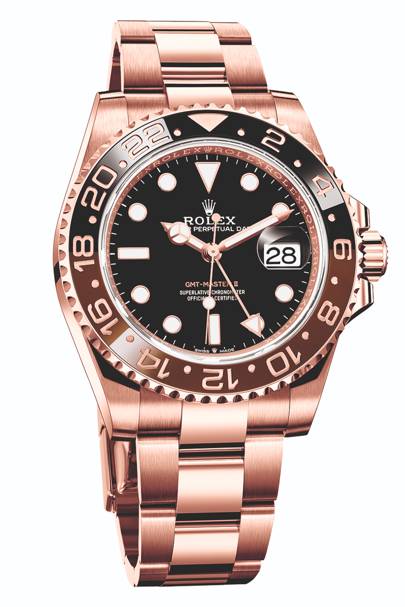 this is the first ever model in 18ct Everose gold, both of which feature a beguiling black and brown two-colour Cerachrom bezel. The GMT Master II 2018 can now be viewed as a collection. Yours for £6,800. Expect enquiries regarding acquiring all three to be swift and to the point.
Comments Off on TAG Heuer Celebrates 55 Years of the Heuer Carrera
The design alone was destined to set new standards. The watch world had never seen a dial as modern, as tidily comprehensible and as readily legible as the face of the Carrera. Jack Heuer, who was responsible for the model's design, relied on minimalism to achieve this clarity. "We eliminated all inessential extra subdivisions, which resulted in a totally clear, clean and stylistically pure dial."
Last but not least, the style that Jack Heuer conceived for the Heuer Carrera also expressed his admiration for modern design. He loved furniture by Le Corbusier and Charles Eames. He liked Oscar Niemeyer's architecture. And he correctly anticipated that the boom in space travel would further strengthen the trend toward straightforward design.
Especially the early puristic Carrera chronographs with their twin and triple subdials rank among the most handsome watches ever built. Customers' subsequent requests for a tachymeter scale were granted, which made the dial somewhat more crowded. But the tachymeter was soon repositioned onto the inner tension ring and the fifth-of-a-second scale retreated onto the dial.The earliest Heuer Carreras needed manual winding. An automatic caliber for chronographs was not yet available, so Jack Heuer decided to develop one. To finance the necessarily enormous investment, he joined forces with appropriate competitors such as Willy Breitling, as well as Hans Kocher, the technical director of Buren Watch S.A. and Dubois-Dépraz S.A. The Hamilton manufacturer joined this trio later. The unveiling ensued simultaneously in Geneva and New York in 1969, when the illustrious team premiered Calibre 11, the world's first automatic chronograph movement with microrotor. This pioneering achievement paved the way toward a bright future for Heuer's chronographs – first and foremost the Carrera – for everyday use and motorsport.
The Carrera's first collection was already a worldwide success. By the mid 1960s, the catalogue already included the Carrera 12, Carrera 45, Carrera Tachy, Carrera Deci and Carrera Black models. A world premiere followed in the mid 1970s with the debut of the first chronograph hosting a digital date display on a printed ring.
Comments Off on Swiss Official Chronometer Testing Institute
Born more than 60 years, Oyster Perpetual series, the global community is popular and very easy to identify people Shiai Mu classics. It can withstand the test of time and tide, it has a timeless charm. In the minds of most people, it has become a work of art.
Rolex long watchmaking tradition and modern technology excellence in Oyster Perpetual series has been fully reflected. In 1926, the world's first waterproof, dustproof watches – Rolex "Oyster" watch was born. Thereafter, the edge renowned reputation by leaps and bounds. This table is superior quality, regardless of the face of any harsh environment; from the depths of the ocean as well as the amount of Everest peak, tens of degrees below zero by the poles, as well as the Sahara abnormal hot weather, always business as usual. The world's outstanding athlete love its rugged, reliable explorers trust its artists appreciate its elegance. Rolex Oyster watch, unique personality, easy to wear the crystal surface, furrowed with winding crown, it glance, focusing on the design concept in terms of technology Or, are eternal immortal great masterpieces. Over the years, Rolex has developed a series of extraordinary taste and great features of both the Oyster watch. This classic watch series consists of 3,200 170 kinds of styles and a variety of personalized design choices.
In this latest James Bond series – set with diamonds 36 mm ladies log type, for example, in Oyster watch every detail is a model of witness. It is the most precious metal, with superb performance – accurate, waterproof, automatic chain technology, coupled through the Swiss chronometer testing center (COSC, Swiss Official Chronometer Testing Institute) approved, every production process is full of intentions. 36 mm log-type case elegant, comfortable to wear. Water depth of 100 meters (330 feet), with the first outer ring set with diamonds. Rolex Datejust movement entirely by design, production, and more through the Swiss chronometer testing center (COSC, Swiss Official Chronometer Testing Institute) approved, can save 48 hours of power. Surface not only refined and elegant, but also has a new design. Alternatively with Oyster bracelet with stretch-type links, Oyster buckle or belt buckle to commemorate the crown-type strap, ensure beautiful appearance, comfortable to wear. The new series, carry Rolexwatchmaking tradition, this watch with the introduction of female charm design may accompany the ladies at different occasions, enjoy a variety of lifestyle, but also on behalf of women's self-affirmation and high aesthetic requirements.