This new GMT-Master II is made entriely of Everose gold and weighs a ton. But it's a comfortable ton, we might add.The dimensions and specifications of the Rolex GMT-Master II Everose are largely comparable with the Rolex GMT-Master II that we talked about here (new Pepsi). It's a 40mm diameter watch with bi-directional bezel and the Rolex in-house developed caliber 3235 movement. The bracelet, in this case, is an Oyster bracelet with polished center link (like the one on all other GMT-Master II models except the new Pepsi) with Easylink system and fliplock Oysterclasp. There is little to tell that we haven't already explained to be honest.
However, the use of Everose gold is new to this model (and the bi-color version) and this, in combination with the black and brown ceramic bezel, makes it a very special watch. Shouldn't this be yellow gold with a brown dial (perhaps even with some nipple hour markers), I asked myself when looking at the displays of the Rolex booth. Once on the wrist though, I felt that the Rolex GMT-Master II Everose is really easy on the skin: less 'hard' than a yellow GMT-Master II would be. Because one of our guys has an earler model and for the sake of comparing, we put it next to the new Rolex GMT-Master II Everose.
With this Rolex GMT-Master II Pepsi, the GMT-Master II Bi-color (steel and Everose) and this GMT-Master II Everose, there's quite an interesting line-up of new variants. Let's also not forget about the new white gold GMT-Master II Pepsi, with blue dial. Unfortunately we did not have the opportunity to shoot this particular reference. Also good to know is that the Rolex GMT-Master II 'Batman' (blue & black bezel) will stay in the collection, despite other rumors in the market. We checked this with Rolex and they confirmed that this model will stay in production.
GMT Master II in "Oystersteel"
This year's hero piece from Rolex has just been unveiled – the new GMT Master II in 'Oystersteel' (previously known as 904L steel) with Cerachrom "Pepsi" two colour bezel and, for the first time in the Professional range of Rolexes, on a Jubilee bracelet.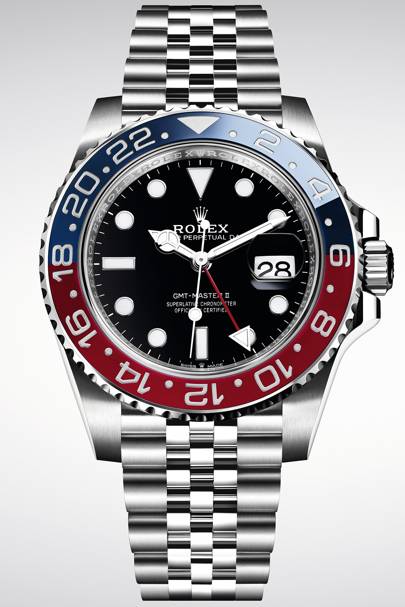 The 3285 movement is new to the Master II, fitted now with a GMT function (as you might expect) and a power reserve of 70 hours (up from 48 on the previous model). The case has been "re-profiled" to add to the lustre of a timepiece that is hardly lacking any.
GMT Master II Everose Rolesor
This is the 18ct Everose Gold Rolesor version.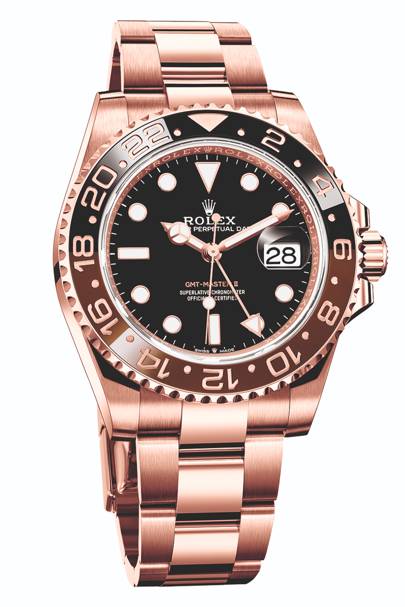 this is the first ever model in 18ct Everose gold, both of which feature a beguiling black and brown two-colour Cerachrom bezel. The GMT Master II 2018 can now be viewed as a collection. Yours for £6,800. Expect enquiries regarding acquiring all three to be swift and to the point.
It is only now, writing this memoir of seeing the 116759SARU that I realize, I had not answered the question. The question is not whether I would wear this watch, but rather what doing so would make me. In all seriousness, such a watch is a window – though a decidedly difficult to see out of window – on our society, on our constraints and our values, on what we think and what we think others think to be appropriate or inappropriate. So, the question still stands: what would wearing this watch make me – or make you, or make a random guy you see boarding first class as you make your way to the barbed wired section of the plane? this is an all-gold Rolex GMT-Master II on the full white gold bracelet, with a factory-set pave dial and a bezel with high quality and painstakingly color-matched stones and massive baguette diamonds.
Rolex makes these rather difficult to get. They, at least in parts of the world that I frequent, never put this sort of watch out into the shop windows – it's presented to you if they deem you worthy. It's a win-win in the sense that it helps improve the idea of exclusivity, and it also is not driving away Regular Joe (i.e. you or I), who just wants "an Explorer I with the properly sized hands." I am absolutely sure that placing a watch like this out in the windows would result in a noticeable drop in sales to ordinary people, at least in most parts of Europe for sure. this watch actually is a good value, when you consider the amount of work and the value of the components that went into it, compared to a car made from reinforced plastic or a flight that's over in 8-12 hours where all you have after it is a memory of getting mildly drunk in a plane.
So, with all this in mind, perhaps we are getting closer to answering the question, "what does wearing this watch make me?" I am dead serious when I say I'd wear this watch. At this point I'd go so far as to say if I had to make a deal of having to wear this watch and no other for the rest of my life, I think I'd still go for it. Weirdly, though, this motive is not fueled by a lust for perceived social status, but rather by my thinking that this watch stands above the rest in a weird way, as though the general rules of watches did not apply to it.
The new red and blue two-color Cerachrom character circle is the Rolex in technology and a great achievement in aesthetics. By the Rolex research and development of the patent circle production process, made of a block with two colors of the word circle. This design and the first GMT-Master and GMT-Master II watch the traditional two-color outer ring echoes. In addition, this innovative circle also reflects the two major achievements, first of all, the production of red pottery circle itself is extremely difficult, and then more to adjust the chemical composition of each grain of ceramic, from the inside to the outside circle from red to blue Color, while the two colors also need to compare clearly. Rolex Cerachrom word circle in 2005, has a very strong anti-scratch, corrosion resistance, even by ultraviolet radiation does not fade. Its surface is polished by diamonds, giving a permanent shine. The 24-hour scale on the ceramic circle was filled with a platinum film by a PVD (physical vapor deposition) coating technique.
The GMT-Master II's 40mm Oyster case is water resistant to a depth of 100 meters (330 feet) and is a sturdy, elegant, perfect example of proportions. Unique solid 18 ct white gold case, cast by Rolex own foundry. Triangular pit bottom cover by the Rolex watchmaker with a special brand of special tools to tighten, so that the case is completely sealed. On the chain crown with Rolex's patent triple lock triple waterproof system, firmly tightened in the case, and by the middle case as one of the crown shoulder protection. In addition, the mirror is scratch-resistant blue crystal manufacturing, 3 o'clock position with a small window convex lens, easy to read the date. GMT-Master II waterproof oyster-type case for the highly accurate movement to provide the best protection.
From this picture we can see the color ceramic watch bezel, blue day, black represents the night. Rolex ceramic ring word came in 2005, with a strong scratch damage, corrosion resistance, even if not fade by ultraviolet radiation. The new GMT II two-color ceramic ring is made of different ceramic materials as a whole, the diamond surface is polished bezel in 24 hours within a progressive scale, fill a thin layer of platinum Rolex developed by PVD coating technology .
The new two-color GMT-Master II watch with 18 ct white gold solid chain oyster strap, the oyster-type insurance buckle to prevent the accidental opening of the buckle; buckle is also installed on the ingenious design patent Rolex easy link extension system , So that the strap can be easily extended about 5 mm, in all cases are more comfortable to wear.
Rolex is one of the most coveted luxury brands on the planet known for quality, durability, style, and prestige. The Company uses the best steel on earth called "904L steel", which is more rust and corrosion resistant. It also makes, alloys and rolls its own precious metals to ensure the exact integrity of every watch. Everything crafted is done to perfection, so take a closer look at the case, crown, hands, bezel, bracelet, and clasp, and if anything comes across as sub-par quality, then you can be pretty sure it's not the real deal.
The movement that powers a Rolex is an exercise in master watchmaking skill. A replica watch cannot match the craftsmanship, dedication, precision, and knowledge invested into each genuine caliber bona fide movement will always have "Rolex" engraved on it, which you can only see if you open up the watch.
Something else to consider is that the majority of the brands watches have mechanical movements, so if you're looking at a quartz, that could be a red flag since only a very limited quantity of quartz watches throughout their history have been produced.
The dial of an original is perfect, so if you see any uneven fonts, inconsistent spaces between the lettering, smudges, and/or misspellings on the watch then it's unquestionably a fake.
With the exception of a couple of very rare vintage models produced in the 1930s, Rolex does not equip their watches with clear casebacks, so beware of replica watches that have a clear window with a view of the movement on the back of the watch's case.
Today, the Rolex Datejust Replica Watches are available in so many options — each one of them unique in their own way. The Rolex Daytona, GMT-Master II, Yachtmaster II, Submariner and the Datejust II are the most popular best-selling Rolex watches of all times. The original watch has barely changed, but its value and reputation definitely has. This timepiece that was once called the biggest mistake is now the most worn and sought-affter piece. It is one of the most counterfeited watches sold all over, and can be sold for just a few thousand dollars. But no matter what, nothing beats the original Rolex Datejust! Copy Rolex Datejust Watches stand apart from the crowd due to its versatility, functional features and designs.
If you want a real Rolex you can always find them at the first pre-owned Rolex Exchange Bob's Watches where you can trade, sell rolex, or buy pre-owned Rolex watches at great prices. If you have any questions or want to know if your Rolex is fake or real give us a call at 1(800)494-3708 and we'd be glad to help you out.
The Rolex GMT-Master II has its roots in the original GMT-Master model that was introduced back in 1954 as a request from Pam American Airlines, which was looking for a watch that could display the exact time in two time zones simultaneously. GMT (Greenwich Mean Time) was used as the international civil time standard at the time. The watch became an instant success among airline pilots and was soon adopted by other airlines worldwide.
The GMT-Master II model was released in the early 80s alongside the original model. The main differences are that it features a movement capable of adjusting the hour quickly without disturbing the minutes, seconds or GMT hand. Furthermore, since it features a rotating bezel, the watch is able to display a 3rd timezone. Newer models feature larger cases, hands, and hour markers. The ceramic bezels are also designed to be stronger and scratch resistant. This is a very elegant Rolex watch that is both functional and classy, excellent for the world traveler.
Rolex is responsible for producing arguably the most famous dual time watch ever made, the GMT-Master. The watch was first released in 1955, albeit in very small numbers, and featured a two-tone bezel in blue and red made of "bakelite". This early version did not feature any crown protectors. The watch was made in collaboration with Pan American World Airways and intended as a pilot's watch capable of simultaneously showing the prevailing time in two locations.